Due to scheduled commitments, many artists depend on project-related work. For this reason, my intensive training is developed in such a way that the artist's current musical material is incorporated. Newly acquired technical skills and tricks are actively applied to their own songs. My clients receive comprehensive exercises that are specifically designed for their continued individual practice.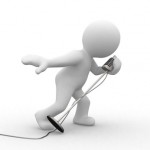 A current appraisal and analysis of the voice's condition provides the basis for the individually designed content of my project-oriented intensive training. Of course, an artist's own individual expectations are also taken into account so that the entire training is jointly planned and discussed with regards to intentions and goals.


Basically, the vocal coaching is built on two pillars: the finishing touches on vocal technique and the comprehensive musical and interpretive work with the artist's own material. My expert consultation can also include a joint analysis of existing DVD, video or audio recordings. 


The entire learning process is rounded-off by optimizing individual working methods. During the course of the training, I individually tailor training and practice material to my clients' needs, including a CD.



foto:©fotolia.com
More on
→ Vocal Coaching during Studio Production and Live
More on
→ Singing lessons in Cologne
Back to
→ Vocalcoaching – Overview